Maintaining the crawl space of a Columbia home is vital. If you're not familiar with the basics of foundation construction, pier and beam foundations create crawl spaces. In this foundation design, piers inserted into the ground are connected to beams attached to the bottom of a house. Those piers lift the house off the ground, creating a gap or crawl space.
While pier and beam foundations are considered strong and stable, their materials and a home's underside are at risk for wood rot, mold, pest infestation, and other damage. Trapped moisture in a crawl space increases these risks, which is why it's vital that a crawl space be vented properly!
A homeowner might wonder if encapsulation or a vapor barrier is better than enclosed spaces with venting. Note a few tips on maintaining a crawl space under your home, including providing adequate air circulation while also blocking moisture and vapors in the space.

Are Crawl Spaces in Columbia Homes Vented?
To find out if your home's crawl space is vented, do a visual check around the home's perimeter. Note if you can see screens along the home's base. These screens might resemble basement windows, or look similar to the vents along a home's interior walls, where your heating and cooling enters the room.
If the crawl space is in good condition so that you can access it easily and safely, look for vents, dehumidifiers, fans, and other fixtures under the home. If you cannot access the crawl space easily and can't find vents around the perimeter wall, it's best to call a foundation repair contractor and schedule an inspection. He or she can check for vents and other fixtures, and give you an update on the condition of the crawl space overall.
Should You Choose Crawl Space Venting or Encapsulation?
To decide if your home's crawl space should be vented or encapsulated, you need to first determine local building codes! Some areas have codes that demand enclosed crawl spaces with vents, to protect against flood damage. Codes might also dictate materials used for encapsulation and how much of the crawl space should be covered during this process.
Homeowners should also weigh carefully the pros and cons of both enclosed and vented crawl spaces, versus those that are open but encapsulated. First note that vented crawl spaces save on your utility costs, as encapsulation or vapor barrier installation usually includes a dehumidifier or working fan. These appliances increase your power consumption and utility costs throughout the year.
Consider the use of the home's crawl space as well. Will you take advantage of that space for storage, such as for tools or automotive parts? If so, encapsulation is often considered the better option, as this process covers the ground with a thick membrane. Not only will this membrane block moisture but it also reduces the risk of damage to stored items.
Even if local building codes don't dictate enclosed but vented crawl spaces, consider flooding risks in your area. Severe floods might damage encapsulation materials and dehumidifiers, while crawl space enclosures block floodwaters and protect a property from damage.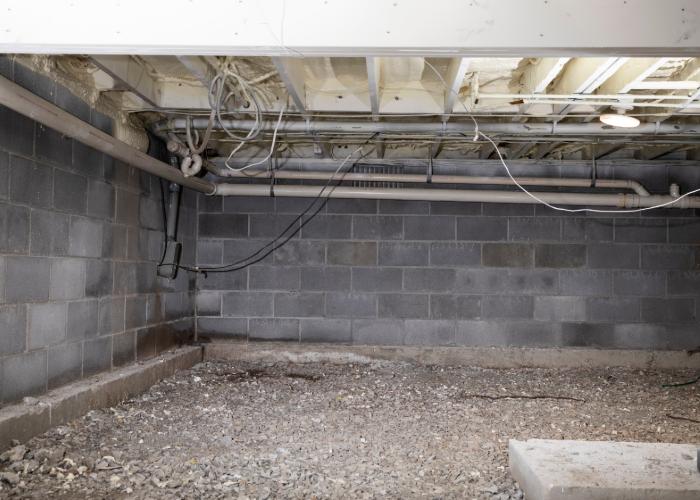 How Do I Protect My Crawl Space?
Excess moisture increases the risk of foundation damage on any property! To protect a home's crawl space and foundation, ensure your property's soil is graded properly, allowing moisture to flow toward the street.
Homeowners also might not realize that the condition of a home's gutters affects its foundation! Undersized or clogged gutters allow rainwater and moisture rolling off the roof to wash over their sides; that moisture then collects around a home's foundation, risking damage. Ensure your home's gutters are clean, sized properly, and in good repair year-round, to reduce the risk of foundation damage.
Regular inspections also allow you to make needed repairs at the first sign of foundation damage! Many foundation repair companies in Columbia offer free inspections, and they can also recommend maintenance or preventative measures that protect foundation materials from damage. If you haven't had your home's foundation inspected in the past few years, now is the time to call a foundation repair company near you.
Columbia Foundation Repair & Waterproofing is happy to bring this information about crawl space repair in Columbia to our readers. Hopefully, you found it helpful! If you're in the market for foundation maintenance or needed fixes, call our trained and dedicated Columbia foundation repair contractors. We offer FREE inspections and price quotes and guarantee all our work to last. To find out more, use our contact form or just give us a call.